TRAKTOR
01
DOMAIN
Music - B2C
macOS, iOS, Windows
Acquisition, Retention & Engagement, Conversion
02
TEAM
2 Product Managers
5 Designers
12 Developers
2 QA
03
METRICS
4M MAU
200k DAU
NPS - 9
04
PRODUCTS SHIPPED
Traktor Pro 3
Traktor DJ 2
Traktor Kontrol S4MK3
Traktor Kontrol S2MK3
Traktor Kontrol S3
TRAKTOR is a modular DJing ecosystem that let's you do more than just mixing two tracks.
Intro
TRAKTOR is a DJing Hardware + Software ecosystem, disrupting the industry - for both PRO and beginner DJs enabling them to do more than just mixing two tracks.
My Contribution
In my role I led a team of 3 designers, partnered closely with product and engineering leads, steered 3 engineering teams, and was instrumental in shaping the product vision.

I joined at a time when users were leaving, Traktor was deprioritised amidst company restructuring.

Navigating bureaucracies I almost had to become an investigative journalist to understand why certain features were not released inspite of getting millions of use requests.

Released long requested features like parallel waveforms, brought in objective data driven decision making and managed to release 3 hardware products and 2 software releases w/ a bunch of updates in between.
Patterns
Some of the patterns we noticed from user research, which were just not only zoom calls but actual in-the-booth talks and observations
01
DJs wanted to have fun on stage, do a bit more than mixing 2 decks but in a safe drunk proof manner
02
Despite the advantages of Laptop DJing, it is looked down in the industry - has image /setup issues
03
Existing users are unaware of all the functionalities cause it needs some time setting up and needs a bit of learning curve
04
DJs would often loop the end of tracks to buy time to look for the next track.
05
The list of user requested features were growing and Traktor needed to first build competitive parity
06
Code base is 20 years old and needed a lot of refactoring before it can support newer features and better UX.
The product care journey begins with a gift
Arc'teryx customers are able to choose a free gift upon purchasing an item (online or in-store). We decided on gifts because we wanted to make product care knowledge available to every customer free of cost.
For this project we found an oppurtunity to design for online buyers since there are no current product care touchpoints through ordering on the Arc'teryx website.
Building excitement through email
An email with product care links will be sent to users who are expecting to receive their gift soon. We want users to be ready for when the product arrives as it's recommended to wash the jacket because it increases the effectiveness of the waterproof material.
Product Care
Magnet
The magnet is a product care guide made from Gore-tex scraps, which was an environmentally conscious decision. The back of the grommet is magnetic, so people can stick it on their laundry machines. The loop allows people to hang the magnet on their coat hangers or wall hooks in case the user doesn't have a laundry machine.
We aimed to design an artifact that could live in the laundry room or closet — because it's a place where clothes live.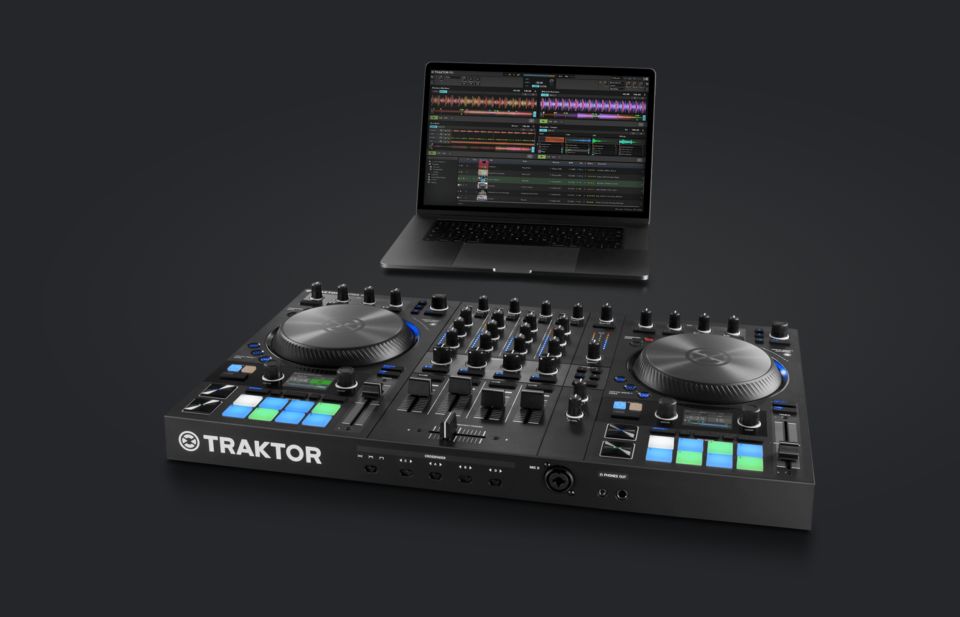 Product Care
Bandana
The banadana has product care instruction written on one side and the pattern features a Vancouver trail. This portable artifact was designed to be used daily for people adventuring in the city or nature.
The Value
Confidence, Trust, Longevity, and Sustainability
Stronger trust and confidence between Arc'teryx and customers that their garments will last and be cared for properly.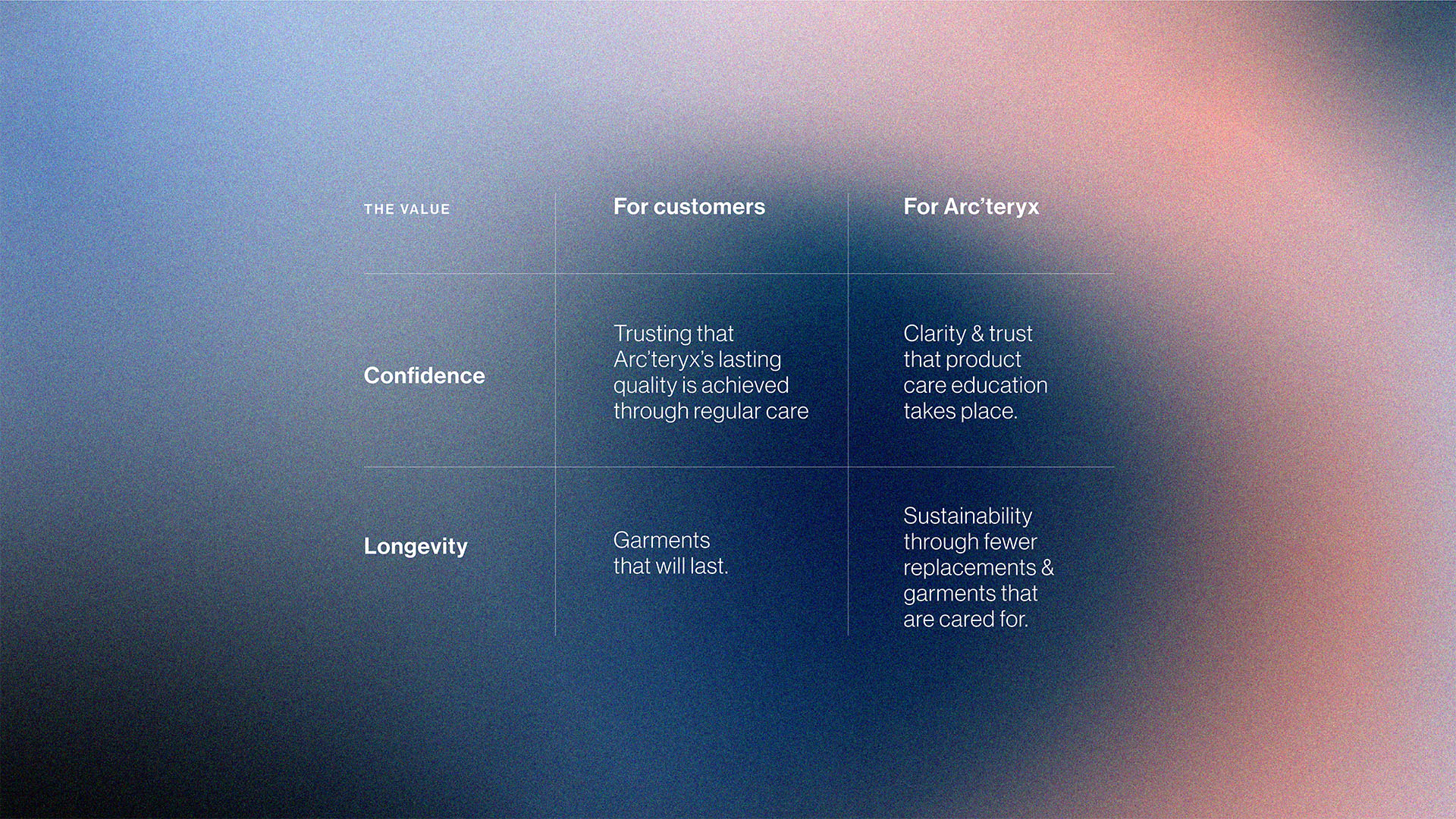 01
The Challenge
20 year old code and user base.
Had to come up with intereventions that doesn't disrupt muscle memory of existing users, but still address the user needs and most requested features which were often a technical challenge to build.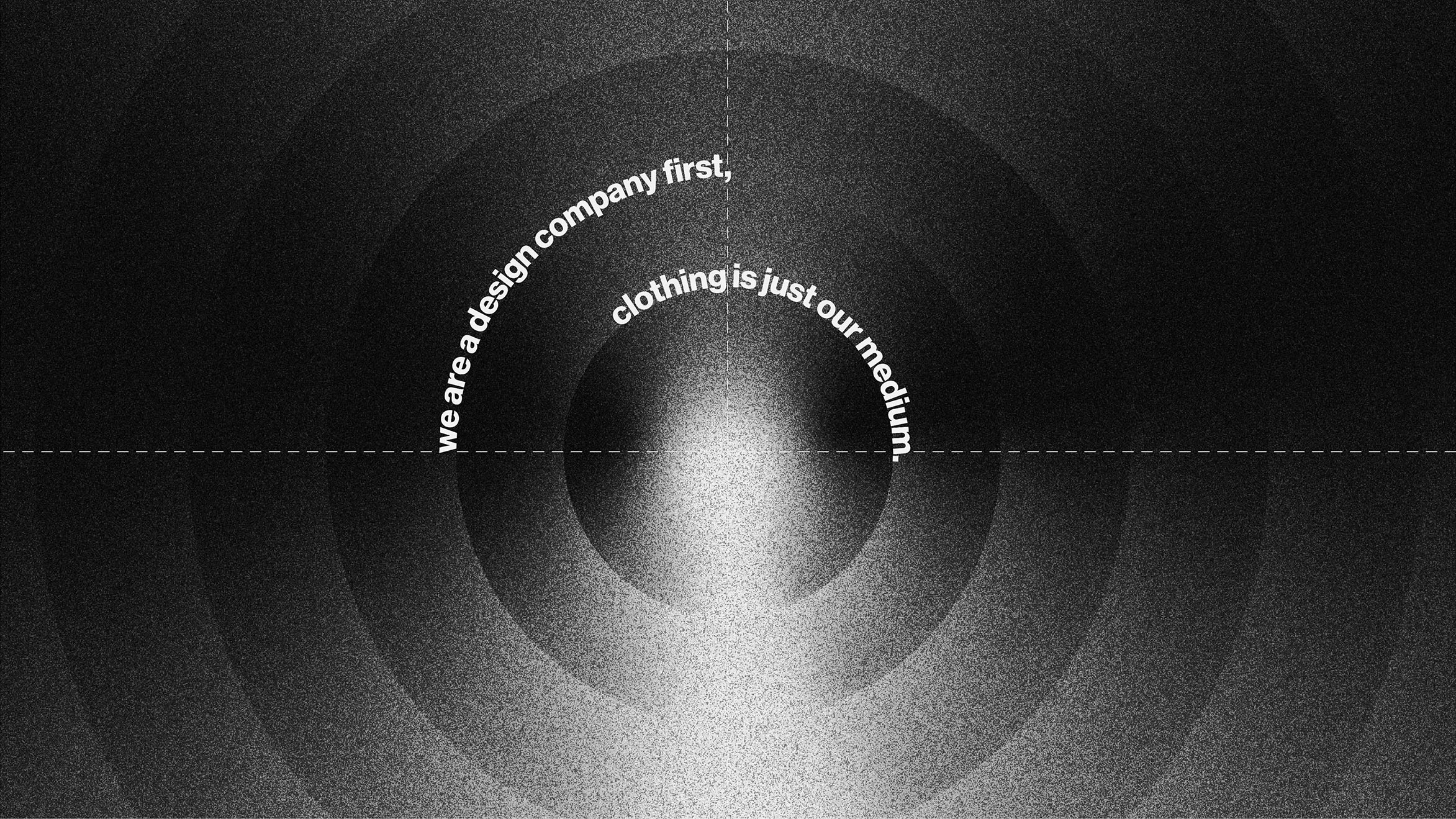 02
The Research
Initial Questions
To begin, we set the course for our research by asking ourselves:
How does Arc'teryx's design and philosophy fit in the context of urban lifestyle?
Who are the people embedded in the Arc'teryx community whose behaviors and rituals best represent Arc'teryx enthusiasts?
What rituals do people who purchase Arc'teryx practice at home, when browsing in store, or when outdoors with their gear?
Ethnography & Interviews
We began our research by visiting and observing each store across the lower mainland to understand their unique programs, while keeping in frequent contact with the store manager and marketing leads. During hour long sessions of undercover browsing, we took field notes, photos, and conducted interviews with product guides regarding customer-employee interactions.
To attain a nuanced and learned understanding of Arc'teryx customers, we conducted 8 qualitative interviews seeking to understand motivations, behaviors, and rituals. We sought out the people who were best able to shed light on our questions which included athletes, outdoor enthusiasts, urban commuters, techwear fans, and casual shoppers.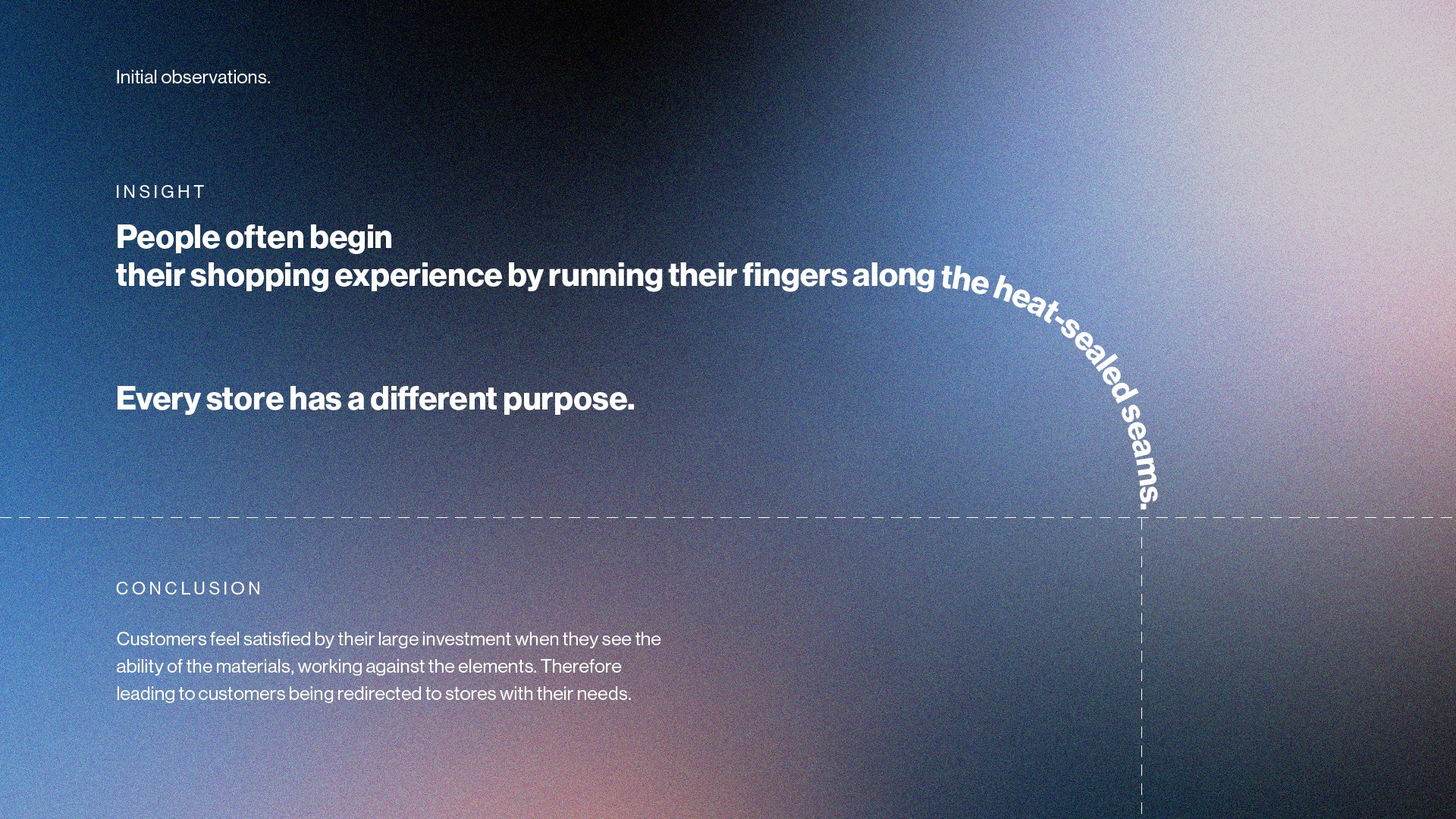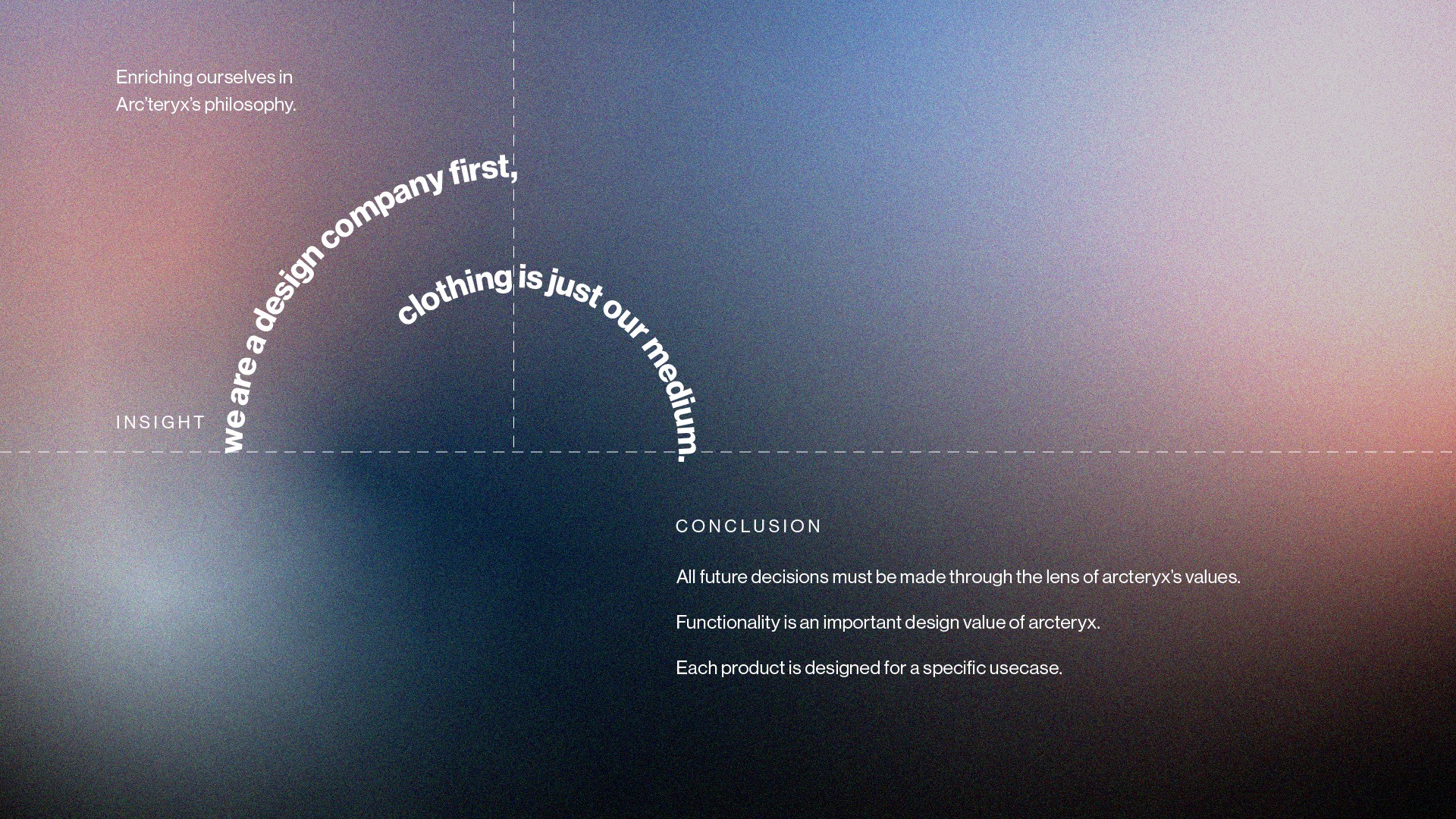 03
Insights
Frustrations described by Arc'teryx customers confirmed for us that people's experience with Arc'teryx is great — until they feel frustrated and betrayed by their product's need for care.
"I left Vancouver before I had a chance to bring it in. Fabric glue stopped working in London. Has really bothered me considering how good their products can be."
"In 2013, I was on a hunt for a jacket to climb Kilimanjaro but one that I can still wear in the city's winter too. I learned the hard way that you're supposed to wash these jackets regularly/often to keep the waterproofness etc. Basically something went wrong when I once washed my Beta AR..."
"Once I figure out the fabric glue situation I'll stand by them 100%. But if I'm paying this kinda money for a jacket I want it to stay strong for longer than a couple years."
04
Habits
Our interviews also confirmed that customers care for their garments in unconventional and potentially damaging ways, listening to advice from friends and family over official resources.
"Just with dish soap, I wash it or dry clean."
"I use a hose to clean it, so it doesn't remove coating, especially after I come back from camping. I make sure I air dry the jacket. I know heat is not good for the jacket, so I don't put it near a heater or a dryer."
"At most, I go over it with wax cause it's cotton."
05
Current Discrepancies
Using data from our interviews, we mapped common journeys that customers may take, from their first connection with Arc'teryx, to active garment use, and eventual replacement. Discrepancies between Arc'teryx's expectations and customer patterns confirmed for us that there is an opportunity to further leverage the current touchpoints.
Expectation
Arc'teryx expects customers to have consulted product care resources, and to perform maintenance on garments as needed after purchase.
What actually happens
Customers avoid washing and drying, fearing it may damage their garment.
Expectation
Arc'teryx expects product care education to take place in-store, during the sales process.
What actually happens
Customers leave the store having forgotten product care information.
Expectation
The Arc'teryx website has product care information for customers to find.
What actually happens
Customers don't seek product care information.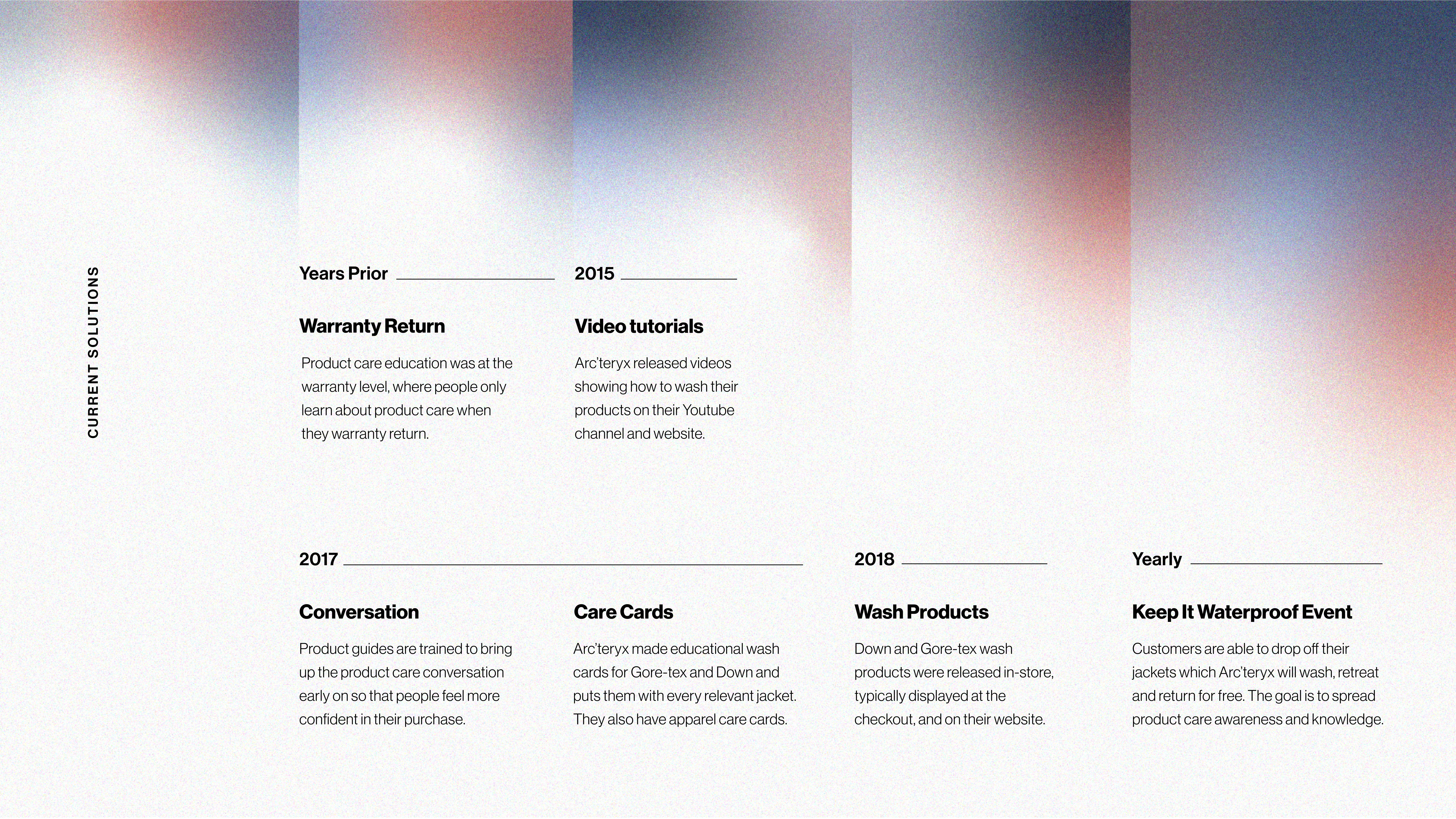 06
Journey Maps & Personas
From the information our team gathered, we created 2 journey maps that described a person's typical experience regarding product knowledge and product care in-stores and online.
3 personas were also created and used as tools to guide the direction of our project. The three personas were created with more of a storytelling narrative and include the online deal seeker, the in-store customer, and the warehouse sale customer. Ultimately designed a fourth persona, someone who bought garments online at the Arcteryx official website.
07
Design Focus
The frictions confirm that there is an opportunity to further leverage Arc'teryx's current touchpoints to communicate the importance of product care to customers.
We quickly understood that a post-purchase intervention, communicating the importance of product care, would renew trust in Arc'teryx's lasting quality, and help Arc'teryx achieve sustainable goals.
Design Question
How might we dispel misconceptions by facilitating post-purchase self-learning on why and how garments should be cared for?
08
Co-Design Workshop
I helped facilitate a 1h 30min online workshop (quarantine style) using Miro to better understand the wants, needs, desires and feasibility of ideas for an intervention. In this workshop we better understood the lens of product care through Arc'teryx employees. Together we did activities like Visual Toolkit, Mashup, Spider, Crazy 8's and made a journey map.
09
Ideas for Intervention
Over the course of a few weeks, we came up with over online and in-store 100 ideas, with each intervention tackling product care in its own way. I facilitated some design sprinting, design thinking, and sketching activities as well as had spontaneous ideation sessions on our figma board.
10
Decision Making
A wise man once said:
"You start designing when you start making decisions. What you decide to leave out is just as important as what you leave in."
That man was my professor, who was guiding our team when we had too many ideas for online and in-store interventions.
Throughout this 14 week project we received critique and feedback from our work which was invaluable to our team. The feedback we received from the people we interviewed, the people at Arc'teryx, and our peers drove the direction of our project. The product care magnet and bandana are simple objects that do their one thing well.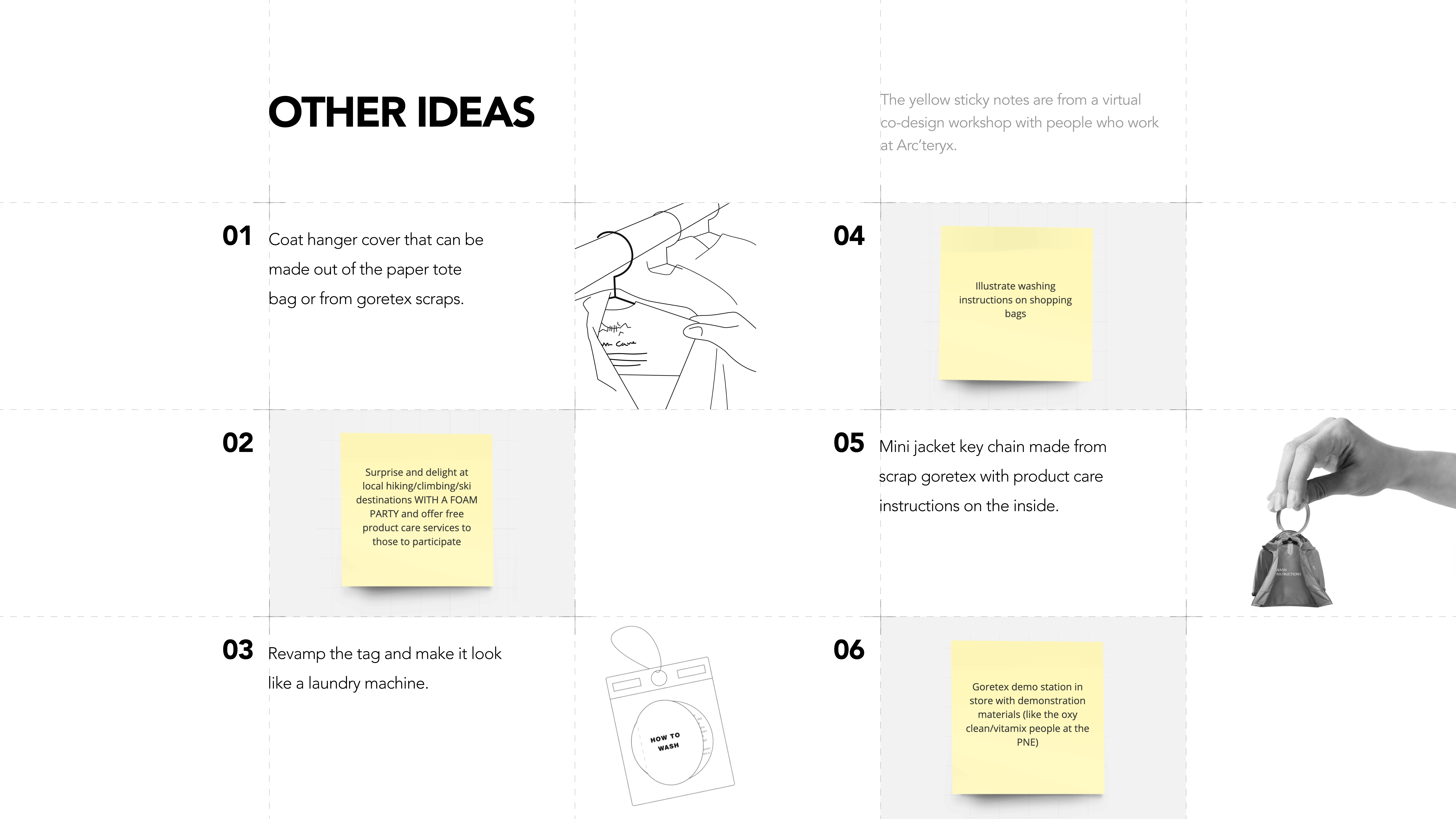 11
Reflection
Our process throughout this project was never linear, it was constant diverging and converging from critiques and meetings with Arc'teryx, our class, and ourselves. I'm really proud of myself and my team for giving it our all, and thankful for Arc'teryx for giving us design students this oppurtunity.
Something we struggled with was framing our design focus because we started without a brief or direction. We also spent a long time deciding what artifact we were going to design (out of the hundreds we brainstormed), I learned that just like experiences, everything is interconnected and our team can create a family of artifacts to give people choices and alternatives. I learned that as designers, we have the power to shape the experience, and we can direct people's behaviour, but do it in a way where they can actually respond. I also got more experience facilitating workshops and exercices. There's countless more that I learned, which I won't include here, but feel free to email me if you'd like to know more.
The last thing I learned was to trust the process as we faced obstacles. Give love to your craft but also to the research and data. Like Hillary Coe said: "Do the work. Hold the vision. Trust the process. Learn from your mistakes."